The Shape of Water (MA)
From master story teller, Guillermo del Toro, comes The Shape of Water – an other-worldly fairy tale, set against the backdrop of Cold War era America circa 1962. In the hidden high-security government laboratory where she works, lonely Elisa (Sally Hawkins) is trapped in a life of isolation. Elisa's life is changed forever when she and co-worker Zelda (Octavia Spencer) discover a secret classified experiment.

The caterers this month are Amitayus Hospice Service 

They will be offering a selection for tasty Lasagnas – Beef, Chicken or Vegetable served with salad
There will be a delicious selection of homemade cakes & desserts. Tea & Coffee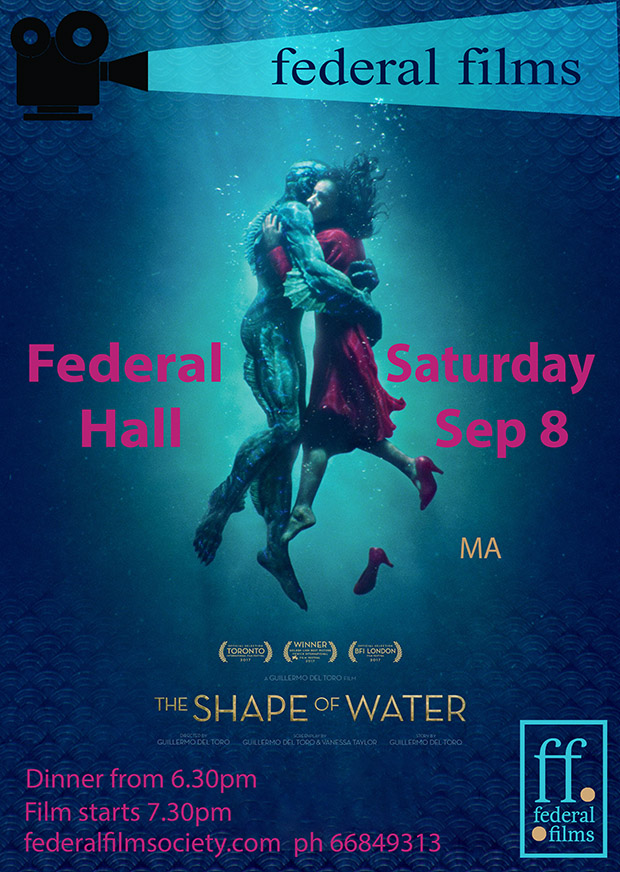 Doors open at 6.30pm for dinner; film starts at 7.30pm. Please note winter screening time.
Short and long-term memberships are available at the door.
BYO and don't forget to bring a cushion!
Phone 6684 9313 or email federalfilmsociety@gmail.com
for further details. See our website for upcoming films:
www.federalfilmsociety.com
Amitayus fund raiser at Federal Film's September Film Night